Anson Harrison, a 35-year-old nurse at Washington Hospital Center, has never missed a day of work in six years.
But Friday morning he called in and said he'd be taking a personal day. The Supreme Court was delivering its decision on the constitutionality of same-sex marriages and he wanted to be on the steps of the court with his longtime boyfriend and friends when history was made.
Same-sex marriage was legalized in D.C. in 2009, but, before Friday, it was still illegal in Harrison's home state of Kansas.
"We were holding out for the whole country," Harrison said. "Now we will [get married]."
After the decision was handed down, Harrison and his boyfriend, Patrick Barrett, gathered with friends at Nellie's Sports Bar — a gay bar on U Street NW that had always planned to open earlier than usual on the day the landmark ruling was handed down. There were happy-hour prices all day long, a DJ starting at 1:30 p.m., Pride shirts, equality flags and dozens of people playing hooky from work to partake in the festivities.
---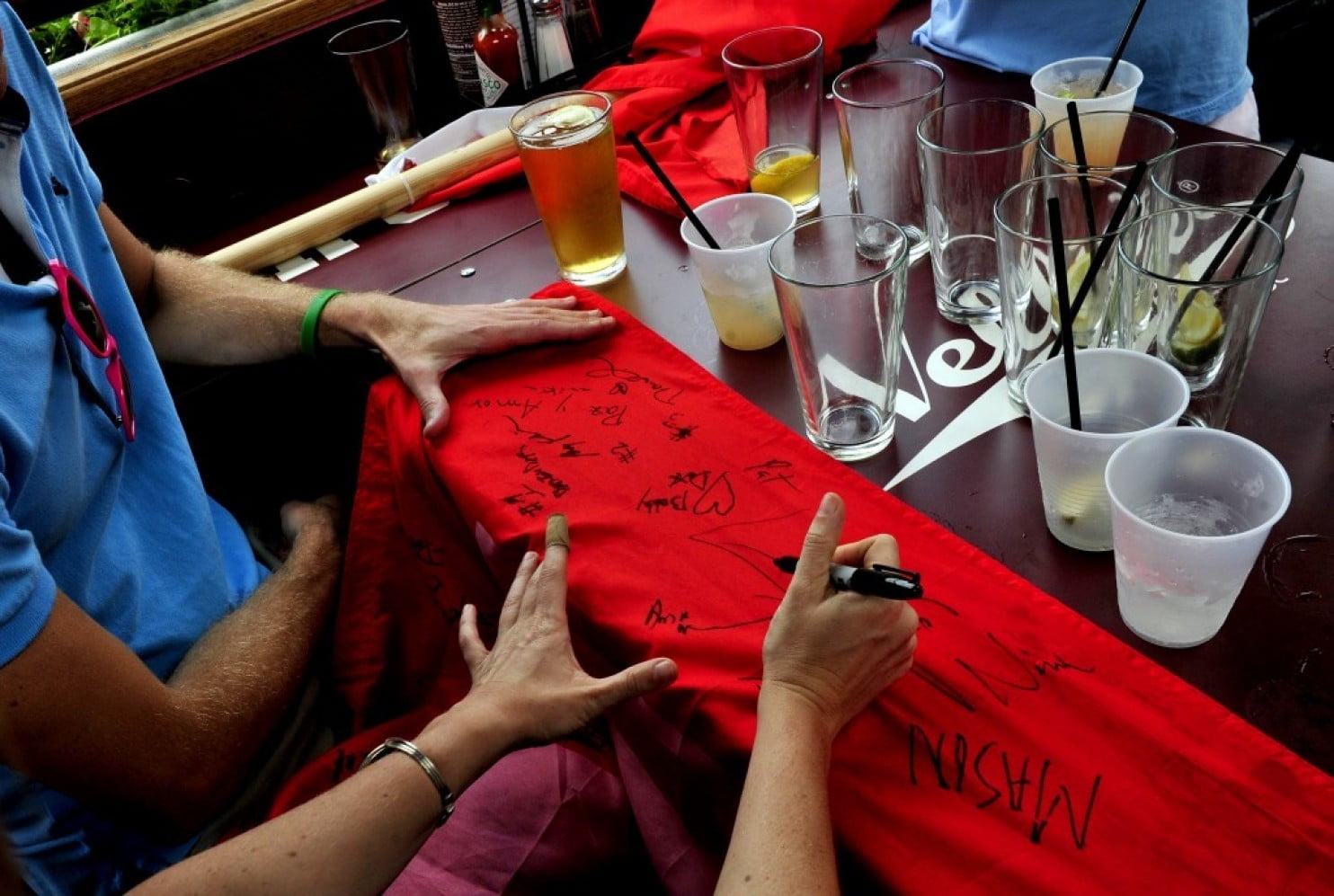 "This is monumental," said Kenny Bell, a bartender and server at Nellie's. "It's a huge deal, that's why we're open early."
[Supreme Court rules gay couples have a right to marry]
Linda MohrParaskevopoulos, 60, was working from home in Herndon, when she heard the Supreme Court ruled in Obergefell v. Hodges, in which justices wrote in a 5-4 decision that banning same-sex marriage was a violation of the 14th Amendment. She told her office she had an emergency, ditched work and celebrated with her wife.
The mayor of Herndon, Lisa Merkel, visited the couple's home to congratulate them immediately after the announcement.
"We cried and we cheered and then I got out of their way so they could get to the court," Merkel said in an phone interview.
The couple took the Metro to the Supreme Court and were off to Nellie's for a drink by lunchtime.
"We're finally legitimate," said Susan Murray, 57, who has been married to MohrParaskevopoulos for five years. "The whole U.S. has to recognize our marriage. We count now."
---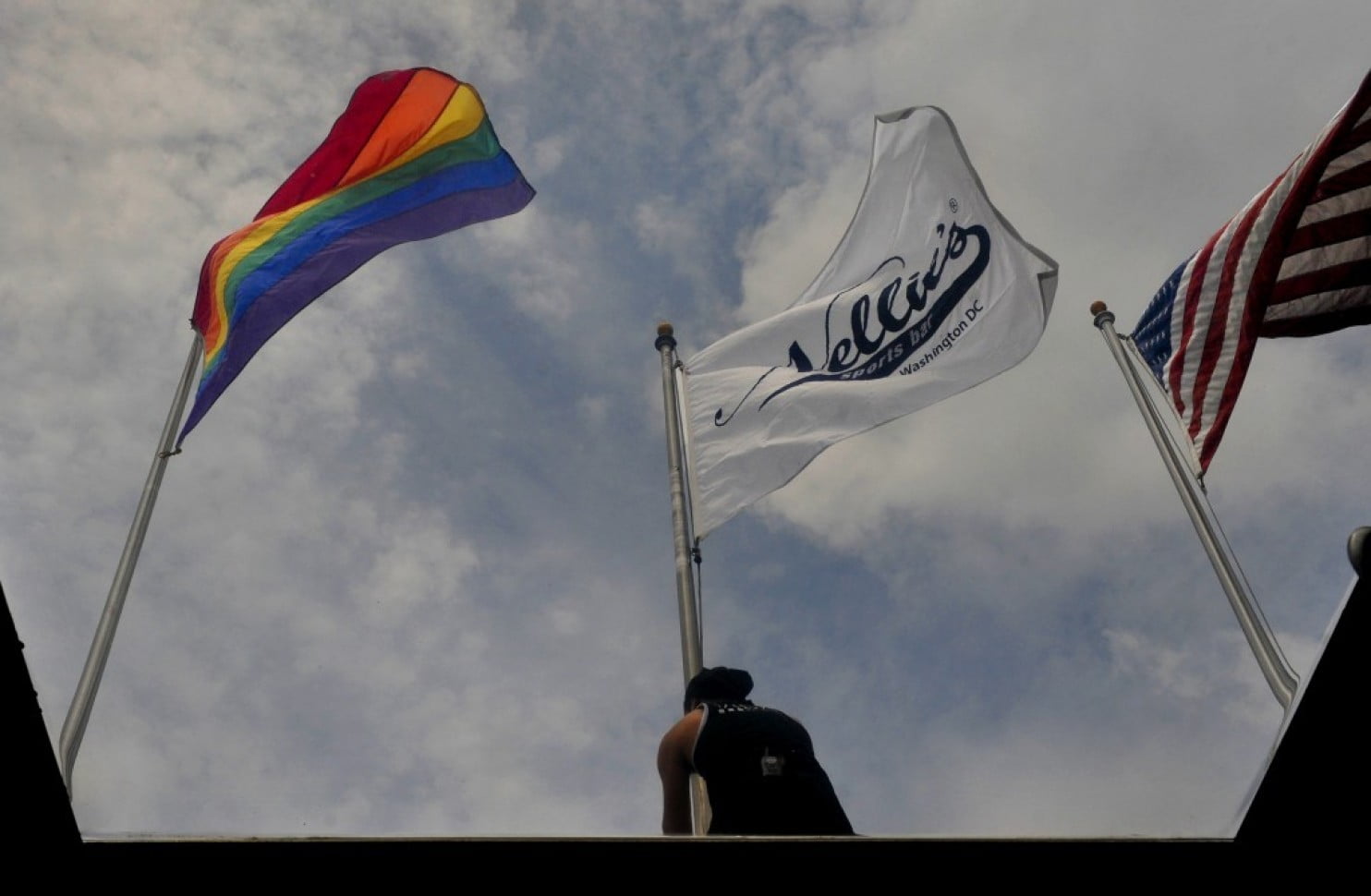 For most, the boozy celebration was about more than just the recognition of marriage. It was a victorious step in their decades-long fight toward equality in the entire country.
"It's amazing to be somewhere where you can just celebrate yourself," said 24-year-old Tyler Hatch, a government contractor wearing a crop-top cut from the Pride flag, raised as a Mormon in Idaho. "I've never had that before."
Susan Lamar, 50, and her fiancee traveled to D.C. from North Carolina earlier this week in anticipation of the decision. They're both from the D.C. area and are scheduled to marry along the Potomac River in July. They have family traveling from Kentucky, Missouri and elsewhere to attend.
"They're all coming for the wedding," Lamar said. "And now they're not just coming for a gay wedding, they're coming for a wedding."